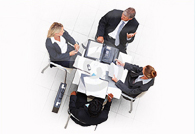 • History
C & C International Venture Co., Ltd. (CCIV) was founded by Chulalongkorn University Intellectual Property Institute with the mission to bring our multidiscipline knowledge from the university to the public.
More than 12 years of experience, our service portfolio has covered more than 30 clients, local and oversea. We accomplished more than 50 consulting projects, which generated total revenues more than 350 Millions of Baht. CCIV is listed as A-Grade consulting firm in transportation sector, telecommunication sector, financial sector, and industrial sector of the Consultancy Data Base Center, Ministry of Finance.
Despite of past success, we yet thrive to improve our competency and capabilities. We keep excel. We will deliver only professional value to fulfill unique needs for our clients …


• Mission
C & C International Venture Co., Ltd. (CCIV) is one of Thailand's leading management and technology consulting firms. We aim to support the development of the country's infrastructure and technology. We have successful track records in providing services to a lot of important government agencies and state-own enterprises (SOEs). Our services are categorized into three main areas: Business & Management Consulting, Information & Communication Technology (ICT) Consulting, and Technology & Engineering Services.